If you have information on these crimes or any other crimes, please call Crime Stoppers at 334-TIPS (8477) or 1-800-222-8477.
Callers that give information leading to an arrest, may be eligible for a reward of up to $2000. Callers do not have to give their identity and will remain anonymous.
FBI Identifies Human Remains
September 04, 2014
FBI identifies Human Remains Found on Navajo Nation in 2012
The FBI has identified skeletal remains found on the Navajo Nation more than two years ago. Now, authorities need your help determining how he died.
DNA analysis revealed the remains were those of Jesse Jacob Estrada, Jr., who was 25 when he was last seen by a family member in Farmington in April 2012.
A human skull and other bone fragments were found near the Nenahnezad Chapter House in Nenahnezad, New Mexico, just one month later.
The FBI and Navajo Nation Division of Public Safety are investigating.
If you or anyone you know has information about the disappearance of Jessie Jacob Estrada, Jr we urge you to help. Any information you have, as insignificant as it seems, may be important! Anyone with information about what may have happened to Estrada is asked to contact the FBI in Albuquerque at (505)-889-1300.
Anyone who wishes to remain anonymous can call Crime Stoppers at 334-TIPS (334-8477) text Crime 367 (274637) or log onto www.sjcrimestoppers.org and earn up to a $1,000 reward.
---
Pedestrian Hit and Run
April 04, 2013
FBI Releases Information on Hit-and-Run
The FBI is releasing information about the possible vehicle involved in a hit-and-run last month that killed a woman who was a member of the Navajo Nation.
Found at the scene of the crash on U.S. Highway 491 near Sheep Springs, New Mexico, was a black, passenger side-view mirror that may have belonged to the vehicle that struck and killed Loretta Silversmith, 56.
Law enforcement officials believe this mirror may belong to either a 1996 to 2000 Dodge Stratus or a 1996 to 2000 Plymouth Breeze.
Although the mirror was black, all mirrors made at that time were black, so the color of the vehicle is unknown.
The crash occurred sometime between the late evening hours of March 4, 2013, and the early morning hours of March 5, 2013, north of a convenience store.
Anyone with information regarding an individual who may drive a vehicle missing a passenger side-view mirror that fits the description of the one involved in the crash, or anyone who knows someone who may be requesting or purchasing this kind of replacement mirror, is asked to call the FBI at 505-889-1300 (24 hours).
The FBI is investigating this case with the Navajo Nation Division of Public Safety.
---
Drive By Shooting
March 11, 2013
S J County Sheriff`s Office asking for Information on a Drive-by Shooting
SJ County Road 350 on Crouch Mesa — A woman and her son were shot at while they were driving south on County Road 350 early Monday morning, March 11, 2013.
No one was injured and investigators haven`t found a motive for the shooting. At about the woman and her 14-year-old son were driving south when a dark Chevy Tahoe and a tan Buick or Chrysler passenger car boxed in the victim`s vehicle as they traveled down Road 350 on Crouch Mesa.
The woman told investigators she heard several shots fired from one of the cars. Several bullets struck the back of her vehicle and it was not clear how many people shot at the woman and her son.
The suspects drove away after the shooting. The Farmington woman was on her way to pick up her husband when she was shot at. According to the Sheriff's Office, there is no reason to believe she would be a target and at this point they are trying to determine if it was a case of mistaken identity or a random act. Deputies were not able to find the car after the shooting was reported.
Anyone with information on this shooting is asked to please contact the San Juan County Sheriff's Office at (505) 334-6107. Those who wish to remain anonymous can call San Juan County Crime Stoppers at (505) 334-TIPS (8477).
---
Park Ranger Shooting
January 09, 2013
Abiquiu Dam, New Mexico
On December 1, 2007, a United States Army Corps of Engineers Park Ranger was performing his routine duties near the Abiquiu Dam area in New Mexico when he noticed that the lock and chain securing a lake pump house had been compromised. While investigating the apparent intrusion, the ranger was met by two individuals exiting the pump house. One of the individuals removed a dark framed revolver from his waistband and fired two shots at the ranger, striking him once. The ranger was able to crawl away from his attackers and survived the attack.
Subject #1 is described as a White or Hispanic male in his early to mid twenties, approximately 5`6", 140 pounds, with black hair. The hair was worn short on the sides and long on top, possibly pulled back into a ponytail. He also had a very pronounced tattoo on the side of his neck, believed to be a figure as opposed to letters or a word.
Subject #2 is described as a White or Hispanic male in his late teens or early twenties, approximately 5`8", 200 pounds, with short, light colored hair and a mustache. He has a colored tattoo on at least one forearm.
The subjects were seen driving a 1990s model white two-door Ford pickup with tinted windows, chrome wheels, grey-colored bumper, and a single step under each door. There is also a significant dent in the passenger's side of the tailgate.
The FBI is offering a reward of up to $25,000 for information leading to the arrest and conviction of the individuals involved. A reward of up to $30,000 is also available from the U.S. Army Corps of Engineers. Anyone with information about this case is asked to contact the FBI in Albuquerque, 505-889-1300 Those who wish to remain anonymous can call San Juan County Crime Stoppers at (505) 334-TIPS (8477).
---
Stolen Bronze Statue
July 26, 2012
Stolen Bronze Statue
The Farmington Police Department is seeking the public's assistance in solving a crime of burglary that occurred at a Farmington residence between Monday, July 23 and Thursday July 26, 2012. The theft occurred some time between these dates when the family was out of town.
A rare bronze outdoor sculpture of a native woman and her child that stands 63" tall and weighing several hundred pounds was removed from the back yard. A picture is included to the left, for your help in identifying this bronze statue that was made by a local Native American artist.
The owner is offering an independent cash reward of $3000.00 for the return of this bronze art sculpture. A picture is attached.
If anyone has information on this theft they are asked to please contact the Farmington Police Department at (505) 599-1035. Those who wish to remain anonymous can call San Juan County Crime Stoppers at (505) 334-TIPS (8477).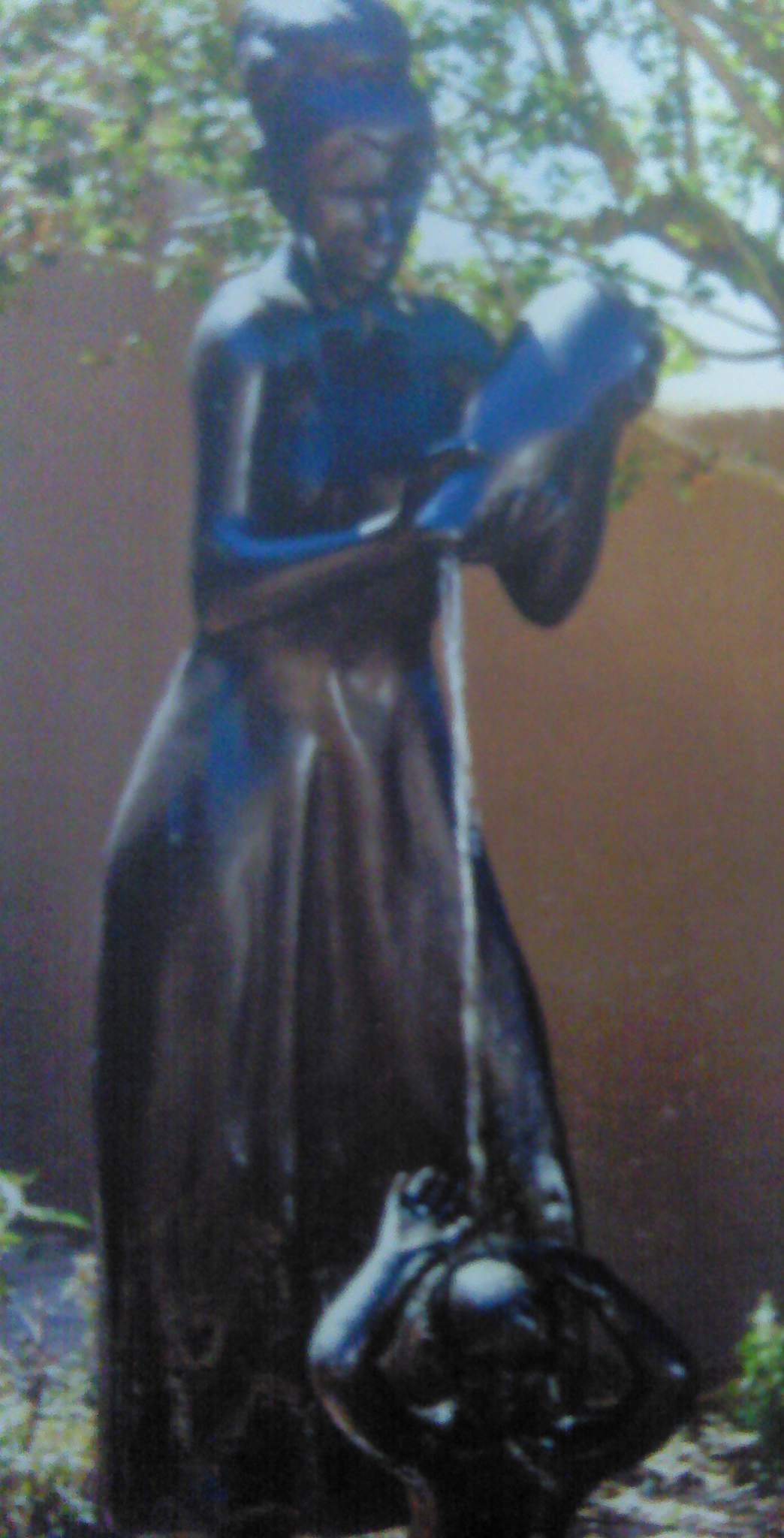 ---
Fatal Hit and Run
May 22, 2012
At about 0910 hours on 5-22-12 an accident involving a pedestrian and what appeared to be an oilfield pick-up truck occurred at the intersection of County Road 3000 and County Road 350 in the unincorporated area of San Juan County, New Mexico.
The victim, an elderly male adult pedestrian, had made contact with the driver of a vehicle described as a white 2000 to 2004 Ford extended cab pick-up truck with a grille guard at the above intersection and was speaking with the driver regarding use of the cell phone while driving. At one point the driver proceeded to drive off and during the course of this action the victim was struck and or/run over by the truck as it left. The truck proceeded north on County Road 350.
The victim was transported to San Juan County Regional Medical Center with injuries that included a crushed pelvis. He subsequently succumbed to these injuries and expired shortly thereafter.
There are no further details regarding the pick-up truck and it is not known if any damage was sustained to the vehicle. We are hoping that all companies in the San Juan Basin with vehicle operations might put this information out to their employees for their information and awareness. There were several witnesses at the scene and the investigation is continuing.
If any information is developed please contact San Juan County Sheriff`s Detectives Daniel Clugston or Mike Sindelar at (505) 334-6107.
---